Afinia L501 Overview
Print Prime & Durable Labels
The Afinia L501 is the first desktop label printer with Duo Ink Technology, allowing for a quick transition from printing vibrant and colorful prime labels (aqueous dye-based ink) to ultra-durable industrial labels (pigment-based ink) with a simple printhead swap. This capability allows companies the flexibility to produce labels for a broader range of applications than was previously possible with a single printer.
Virtually Two Printers in One
"Currently, manufacturers that require labels for both prime and durable applications must purchase two printers—or outsource their printing—for this to become possible" said Mike Atkins, National Sales Manager for Afinia Label. "The L501 is unlike any other printer on the market in that it eliminates this issue for many. It's virtually two printers in one."

Pigment Inks vs. Dye-based Inks
Pigment inks offer unparalleled durability with compatible stocks and are a must-have for applications requiring full-color waterproof or UV-resistant labels. While pigment inks are durable, they are not as naturally vibrant and colorful as dye-based inks.
Dye-based inks are less durable compared to pigment-based inks. However, dye-based inks can achieve a much larger color gamut, allowing for beautifully vibrant, full-color prime labels. As a result, the Afinia L501 Digital Color Label Printer's compatibility with both pigment-based inks and dye-based inks makes the Afinia L501 one of the most versatile label printers available on the market today. The interchangeability of the two ink types gives users tremendous flexibility by allowing both prime and durable labels to be printed from the same printer.
The Afinia L501 prints on rolls of blank labels (both continuous and die-cut) ranging from 1.0″ to 8.5″ in width and 0.75″ to 48.0″ in length. For blank die-cut media, it utilizes sensors that detect label gaps and black marks. Furthermore, the integrated, powered unwinder and an automatic cutter allow for easy removal of printed labels. Moreover, the L501 label printer is capable of printing up to 4800 x 1200 dpi, with print speeds of up to 26 feet per minute.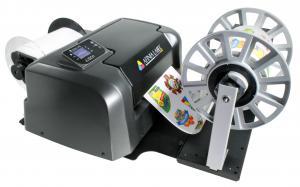 Optional Afinia L501 Rewinder
The Optional Label Rewinder for the Afinia L501 Label Printer allows for roll-to-roll production by conveniently rewinding your labels right onto a 3″ core, which makes managing your label production easy. This is a recommended addition for companies that experience high usage or heavy duty jobs.
The L501 rewinder can handle label sizes up to 8.5″ wide and rolls with up to 8.0″ outside diameter. After printing and rewinding is complete, simply remove the core holder and completed roll.

Additional Images
Specifications
Print Technology
HP Thermal Inkjet
Print Resolutions
Up to 4800 x 1200 dpi
Print Speed
Approximately 5.2 in/sec (13.2cm/sec) printing a 2.2 in (56 mm) wide image in plain paper normal mode
Inks
Option of Dye or Pigment — Individual Cyan, Magenta, Yellow (26ml), Individual Black (78.4ml)
Core Size
3″ (76.2mm)
Media Types
Compatible with wide range of paper, polyester, polypropylene, and vinyl label stocks. Supports gap, black mark, and continuous media
Media Sensing
Auto calibration and auto detection of gap and black marks
Label Width
1.0″ – 8.5″ (25.4mm – 215.9mm)
Label Length
0.75″ – 48″ (19mm – 1219.2mm)
Inter Label Gap Size
0.125″ – 0.3″ (3.175mm – 7.62mm)
Media/Liner Width
1.5″ – 8.65″ (38.1mm – 219.7mm)
Black Mark Size
0.125″ – 0.3″
Label Thickness
0.004″ – 0.01″ (0.1mm – 0.3mm)
Cutter
Powered cutter
Unwinder
8.5″ (152.4mm) max width, 8″ (152.4mm) OD on a 3″ core (76.2mm)
Display
2″ mono display with buttons
Operating Systems
Windows 7, 8, and 10 (32 and 64 bit)
Data Interface
USB 2.0 connection and 10/100 Base-Tx Ethernet
Operating Temperature
59 – 90°F (15 – 32°C)
Operating Humidity
20 – 80% RH
Overall Dimension
22.5″ x 21.5″ x 8.75″ (570.6mm x 540.2mm x 225.1mm)
Weight
35lbs (15.9kg)
Warranty
1 year
Afinia Part Numbers
31322 – Afinia L501 Label Printer Dye Ink Edition
29670 – Afinia L501 Label Printer Pigment Ink Edition
31553 – Afinia L501 Label Printer Duo Ink Pigment and Dye Bundle
31336 – Afinia L501 Rewinder
30986 – Afinia L501 Printhead with Dye Inks
30993 – Afinia L501 Printhead with Pigment Inks
30657 – Afinia L501 Black Dye Ink Cartridge
30636 – Afinia L501 Cyan Dye Ink Cartridge
30643 – Afinia L501 Magenta Dye Ink Cartridge
30650 – Afinia L501 Yellow Dye Ink Cartridge
30685 – Afinia L501 Black Pigment Ink Cartridge
30664 – Afinia L501 Cyan Pigment Ink Cartridge
30671 – Afinia L501 Magenta Pigment Ink Cartridge
30678 – Afinia L501 Yellow Pigment Ink Cartridge
Summary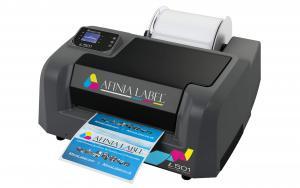 Rating
Brand Name
Product Name
L501 Digital Color Label Printer
Price
Product Availability