Description
Unlike the inkjet-based label printers that we sell, the Afinia LT5C Color + White Label Printer is unique in that it uses dry toner instead of ink, and therefore is capable of printing the color white and CMYK color. This is made possible by OKI Digital LED print technology, which is similar to laser printing in that toner is fused to the label material. However, there are several advantages of LED printing over laser printing that are critical to printing labels. Some of these advantages include increased speed, reliability, improved handling of thicker media, and low fusing temperatures.
Receive a $500 discount when you purchase $500+ of blank labels with the purchase of an Afinia LT5C Color + White Label Printer. This discount is automatically applied to your cart once these conditions are met.
Furthermore, the addition of a fifth (white) toner cartridge allows for full CMYK color plus white (CMYK+W) printing. Unlike inkjet, the toner is actually fused to the label material itself, which results in extremely durable labels that are truly waterproof and BS5609-certified1. Additionally, the Afinia LT5C's ability to print white toner onto dark, transparent and other specialty materials – all of which are waterproof – makes the Afinia LT5C ideal for a wide variety of applications.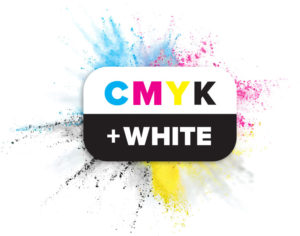 Key Features
Uses OKI's Digital LED Dry Toner Print Technology
Prints White – ideal for dark and transparent materials
Produces durable labels that are fully waterproof and BS5609-certified1
Compatible with wide variety of media including uncoated and specialty materials such as foils
4.3″ Full-Color LCD Display
1200 x 1200 dpi print resolution
Supports label rolls ranging from 1″ to 5.1″ wide with up to 8″ outside diameter
Digital LED Print Technology Expands Media Capabilities
The low fusing temperature provided by OKI's Digital LED print engine gives the LT5C unparalleled media compatibility in comparison with traditional laser printers that use dry toner. This is especially true when handling heat-sensitive synthetic substrates. Moreover, the utilization of dry toner technology instead of ink allows for a wider range of materials that other label printers simply cannot handle – including uncoated and single color (flood-coated) stocks also provides additional advantage for users looking for ways to reduce overall cost per label.

Printing, Media Handling & Ease of Use
The LT5C supports a crisp print resolution of 1200 x 1200 dpi and label rolls ranging from 1″ to 5.1″ wide with an outside diameter up to 8 inches. It is important to note that the Afinia LT5C has a minimum print margin of 0.083″ (2.12 mm) and therefore cannot print full-bleed on die-cut labels, however it is possible for full-bleed labels to be produced on continuous media that is then die cut with a finisher (such as the Afinia DLF-140S). Like most label printers, the Afinia LT5C is equipped with sensors that detect and support black mark, gap and continuous uncut media. The automatic cutter ensures accurate end-of-job cutting, enabling users to print one or many labels quickly and easily. The Afinia LT5C Label Printer is intuitive and easy to use and install due to its desktop configuration, and requires minimal training and technical skills. The 4.3″ Full-Color LCD Display and media handling guidance makes it easy for the user to set up and print labels on demand.
Afinia Label LT5C Digital LED Toner Printer Overview - Print in CMYK + White
Optional Afinia LT5C Label Rewinder
Print at full speed using a roll-to-roll configuration by adding the optional Afinia LT5C Rewinder. Continuous roll-to-roll printing with the Afinia LT5C and the optional LT5C Rewinder is ideal for both die-cut and uncut continuous media. After printing using the Afinia LT5C Label Rewinder, you are left with labels on tight, finished rolls on 3-inch cores with outside diameters up to 8 inches. If uncut continuous labels are being used, the label roll can then be cut to any size and shape with the LT5C's perfect companion, the Afinia DLF-140S Digital Label Finisher.

What's in the Box
Afinia LT5C Label Printer
Powered Unwinder
Power Cable
One Set of LT5C CMYK+W Toner Cartridges
Downloadable Guides & Manuals from Afinia
Compatible Accessories & Supplies
Download Brochure
Important: This product is not eligible for return once the manufacturer's original packaging has been opened, thus making it important that you review our return policy prior to purchasing. We recommend that all prospective buyers request free printed sample labels to ensure that the print quality of the labels printed by this printer meets their expectations. Products are still fully covered under the manufacturer's warranty should there be an issue with the product itself.
1 The Afinia LT5C dry toner, used in combination with Fasson/Avery Dennison 2 Mil White Laser TC PET media, has been BS 5609 certified.