Description
The first label printer specifically designed as a color upgrade to black-and-white thermal transfer printers1, the Epson ColorWorks C6500A Inkjet Label Printer delivers on-demand, color labels up to 8″ wide at a comparable price2. Engineered by Epson for mission-critical applications, this reliable color label printer speeds through labels at up to 5.8″ per second3. Featuring up to 1200 x 1200 dpi resolution, the Epson CW-C6500A produces crisp color images for cost and inventory reductions comparable to pre-printed labels. This versatile printer also offers seamless integration with your organization's existing workflow and is built to accommodate remote printer management — providing compatibility with ZPL II, SAP® and more.
Receive a $750 discount when you purchase $750+ of blank labels with the purchase of an Epson ColorWorks C6500A Label Printer. This discount is automatically applied to your cart once these conditions are met.
Epson C6500A with Auto Cutter
The Epson ColorWorks C6500A comes standard with an 8″ wide built-in auto cutter to create variable-length labels and enable easy job separation. Epson's ColorWorks C6000/C6500 series also includes the Epson ColorWorks C6000A (Epson CW-C6000A), Epson ColorWorks C6000P (Epson CW-C6000P) and Epson ColorWorks C6500P (Epson CW-C6500P). The CW-C6000A and CW-C6500A include built-in auto cutters, while the CW-C6000P and CW-C6500P include built-in label peelers — making these the first color inkjet label printers to offer peel-and-present4 — ideal for fast, print-and-apply applications.
Note: the main difference between the Epson C6000 series and Epson C6500 series is that the Epson C6000 label printer series support up to 4″ wide label printing (and 8″ outside diameter rolls), whereas the Epson C6500 label printer series support up to 8″ wide label printing (and 6″ outside diameter rolls).
Gloss vs. Matte
The Epson ColorWorks C6000/C6500 Label Printer Series uses highly durable pigment-based inks with both gloss and matte versions available to best suit your specific labeling application. The Gloss Ink Edition (C31CH77A9991) version of this printer uses Gloss Black Ink capable of printing on a wider variety of substrates with various finishes such as glossy, matte, plain and more. The Matte Ink Edition (C31CH77A9981) version of this printer uses Matte Black Ink which offers darker, sharper black text and images when printed on matte, textured and plain media only. Both gloss and matte versions use the same color ink cartridges, and have been BS5609 certified5.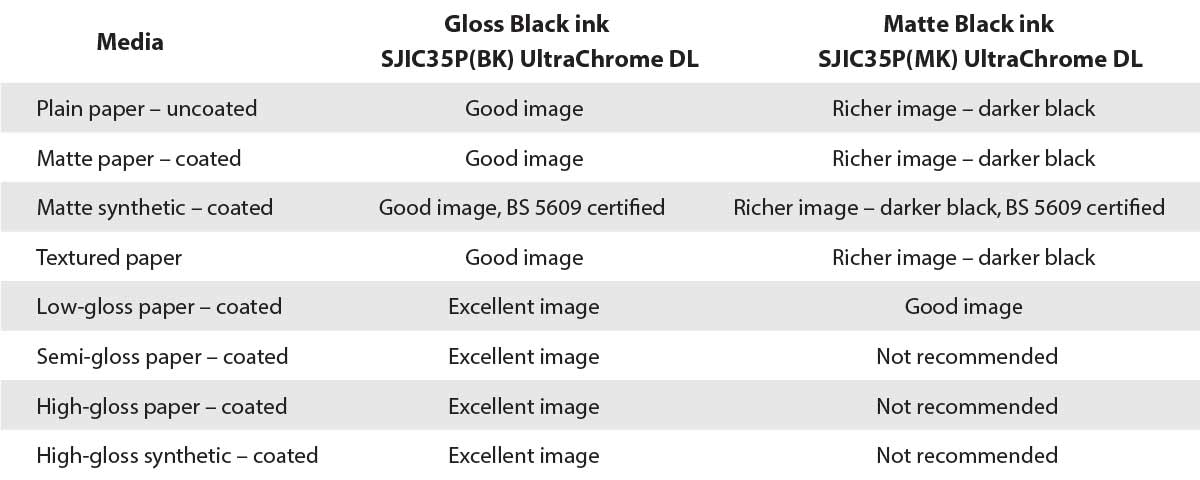 Still unsure which version is best for your labeling application? Test and compare the differences by requesting free printed sample labels here.
High-Quality Printing
Epson-engineered PrecisionCore® TFP® printhead technology delivers ultra sharp text and precise barcodes. Coupled with a 1200 x 1200 dpi resolution, this printhead technology produces varying droplet sizes that can produce smooth gradations, fine image details and a huge gamut of vibrant, accurate colors. Whether the challenge is to produce complex informational labels or high-quality color product labels, the Epson ColorWorks C6000/C6500 series is certainly up to the challenge.
ESC/Label & ZPL II Interface Languages
ZPL II capabilities allow you to experience the advantages of Epson inkjet technology without reprogramming existing systems. ESC/Label command extensions can be added to unlock the power of color. Leverage color for logos, product pictures, color-coded fields and marketing messages to improve overall brand image and business.
Remote Management Tools
Epson made the Epson ColorWorks C6500A Label Printer for large-scale enterprise environments. To support these high-volume scenarios, a wide range of remote management tools are available. These tools allow IT and support teams to remotely monitor the status of large fleets of printers, generate email alerts for items needing attention, remotely deploy firmware updates, set up complex network environments, and view or modify settings from any computer browser or Android™ or Apple® powered smartphone.
General-Purpose I/O Port
Designed for mission-critical production, Epson CW-C6500A label printer comes equipped with a general-purpose I/O (GPIO) port. This gives automation developers all the control they need to seamlessly integrate the printer into their automated workflow. The GPIO port provides all the necessary information on supply levels, status, faults and readiness. Inputs enable users to pause, clean and print.
Key Features
The first label printer specifically designed as a color upgrade to black-and-white thermal transfer printers1 — with similar media handling capabilities, speed, features and connectivity options, all at a comparable price point
Versatile Ink Types — both gloss and matte versions available to best suit labeling applications
Reliable — engineered by Epson for demanding applications
Support — backed by Epson's industry-leading service and support
Enhanced productivity — eliminate the need to pre-print; speeds up to 5.8″ per second3; fast time to first label
Durable, high-quality color labels — both gloss and matte versions meet BS5609 certification5
Astounding image quality — up to 1200 dpi resolution with various droplet sizes; crisp images comparable to pre-printed labels
Seamless integration — compatible with ZPL II, major middleware, SAP, Windows®, Mac® and Linux
Remote printer management — for managing large fleets over the network
Auto cutter included — ideal for fast, on-demand applications
Applicator I/O control port for truly automated workflow — supports I/O commands and can be integrated into nearly any workflow
Low cost — comparable to existing thermal transfer printers2
ColorWorks C6000 Series: On-Demand Color Label Printers | Take the Tour
What's in the Box
Epson ColorWorks TM-C6500A Label Printer
AC Power Cord
One Set of Full-Capacity Epson ColorWorks C6000/C6500 CMYK Ink Cartridges
Sample Label Roll
Instruction Sheet
Helpful Tip: Epson states that when using the printer for the first time, the replacement interval for the maintenance box is shorter than usual as ink charging consumes the ink. This is why Texas Label Printers recommends that customers also purchase an additional maintenance box and an additional set of ink cartridges at the time of purchase.
Compatible Accessories & Supplies
Download Brochure
ColorWorks Label Printers | CW-C6000 Series Unboxing and Setting Up
Important: This product is not eligible for return once the manufacturer's original packaging has been opened, thus making it important that you review our return policy prior to purchasing. We recommend that all prospective buyers request free printed sample labels to ensure that the print quality of the labels printed by this printer meets their expectations. Products are still fully covered under the manufacturer's warranty should there be an issue with the product itself.
1 The CW-C6000/C6500 family is the first to bring to market the combination of features of direct ZPL II printing, peel-and-present, remote printer management, companion four- and eight-inch models, applicator I/O interface, broad middleware support, and comparable price points.
2 Printers and consumable costs are similar when comparing similarly featured leading brand thermal transfer printers and supplies for similar high durability images on similar media.
3 Printing in Max Speed Mode, 300 x 600 dpi, 2.2″ (56 mm) print width.
4 Compared to color inkjet label printers available in the U.S. and Canada as of July 2019.
5 Epson ColorWorks CW-C6000/C6500 inkjet label printers with Epson's UltraChrome DL pigment ink, used in combination with Neenah Kimdura™ poly media, has been BS 5609 certified.