Industry: Food & Beverage | Location: Las Vegas, NV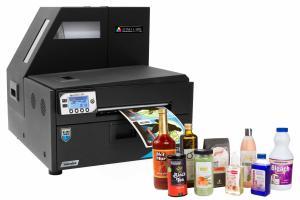 The Label Situation
Kanani Foods is a Las Vegas-based supplier of sushi, sandwiches, and salads to casinos, retailers, and convenience stores in Nevada and the surrounding states. Founded in 2003, Kanani has grown from an 800 to a 20,000 square foot warehouse and have increased their product mix from 1 to 195. Adding a large number of products increased the complexity of their FDA-compliance and labeling, as evidenced by the increase in their label printing volume, from 25 to 20,000 labels per day.
Read the PACK EXPO International Show Daily Article on Kanani Foods' Afinia L801 Label Printer experience.
Kanani started printing label sheets on an inkjet printer, then moved on to thermal (black only) and thermal overprint of preprinted labels. Their need for variable data labels, increased branding sophistication, and growing product lines caused them to seek a more professional and scalable label printing solution. Kanani Foods was using one-color preprinted labels for refrigerated food with a thermal printer to produce their 20,000 labels per day, with an inventory of 195 different label rolls. They wanted to produce more professional-looking labels on-demand while decreasing inventory and staying FDA compliant.
"When we were using the thermal printer to print labels for refrigerated food, it would take 7 hours to print labels for the day's production. Now, it takes 25 minutes, which is a 94% labor cost savings."

– Tim Cruz, VP of Operations — Kanani Foods
Solution Requirements
Use variable data to maintain FDA-compliance
Decrease production time and label inventory
Create more professional-looking food & beverage labels
The Memjet™-Powered Solution
Kanani Foods purchased the Memjet-powered Afinia L801 Color Label Printer to reinvent the look of their labels. With the L801's variable data printing capability, Kanani Foods is able to print FDA-compliant labels on-demand that contain manufacturing and sell by dates. Also, Kanani Foods is able to print food & beverage labels that meet USDA customers' specific labeling, branding and other requirements. By drastically reducing the amount of time it takes to print their label runs, they were able to gain over 6.5 hours of production, reduce headcount by one person (saving $4,000 per month), and increase production by over 50%. The Afinia Label L801 allows Kanani Foods to continue to grow their thriving business.
Return on Investment
Kanani Foods saved 22% per printed label, saving $600 per day. The Afinia Label L801 will pay for itself in approximately one month.
Before Memjet™
Kanani Foods used thermal printing on one-color preprinted labels.
After Memjet™
Full-color labels are printed on-demand, in-house.
Before Memjet™
Kanani Foods' thermal label printing method cost $0.05 per label.
After Memjet™
A label cost of $0.03 to $0.04 per label, for 22% per label cost savings, or $600 per day savings.
Before Memjet™
Labels lacked visual appeal, and printing took 7 hours (for approximately 20,000 labels).
After Memjet™
High-quality, professional labels print in 25 minutes—resulting in 94% labor cost savings.