Print Your Own Custom Cannabis Labels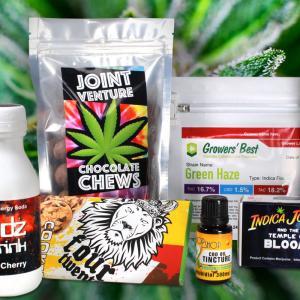 Quickly Adapt To Government Regulations
Give your business the flexibility to make changes to your labels on the fly. One of the biggest challenges with labeling cannabis products is the frequent changes to packaging requirements. Whether it's newly required warnings, symbols, coloring, textual requirements or other design restrictions, your growing business needs to stay up-to-date and compliant with changing government regulations at all times. Owning an in-house digital cannabis label printer gives your business the adaptability and flexibility needed to stay on top of regulation changes and gives you more time to focus on what matters most.
Avoid Costly Outsourcing Delays & Hidden Expenses
Outsourcing label orders can be expensive and take weeks to produce and deliver, which can limit your company's ability to make changes and manage pre-printed label inventories. Outsourced labels also often come with rush fees, MOQs (minimum order quantities), and other unforeseen costs.
Purchasing outsourced labels may seem easier than printing your own custom cannabis labels (which it is actually very easy to do), but you may also have to take into consideration the effects of production delays and how that will impact your business. These are the expenses that can go far beyond just the cost of the label that some might overlook. Having an in-house cannabis label printer will, over time, save both time and money.
Simplify Label Inventories
Managing your cannabis product label inventory can become much easier to maintain and organize with an in-house label printer because you will only need to stock blank labels that can have various labels printed on it. This eliminates the risk of wasting your label inventory if/when regulations change. When you're only printing what you need—versus what you're required to order through a third party to hit price breaks or minimum order quantities—it saves you both time and money.
Stand Out From The Competition
When you own your cannabis label printer, you have full control over the design and feel of your brand. In the competitive and evolving cannabis industry, packaging plays a major role. Delineate the different cannabis varieties you have for sale with cannabis strain labels and medical cannabis labels. Easily create design iterations for seasonal changes, focus groups or internal discussion, so your product is always looking current and appealing.
Variable Data Cannabis Labeling
Pull required data needed for legal compliance from either a spreadsheet, drop-down menu, or manual input to change information from label to label. This can be done with either a simple PDF editor, your existing design software (such as Adobe Illustrator or CorelDRAW), or design software specifically tailored for label design and workflow (such as BarTender, NiceLabel or TEKLYNX). Your cannabis label printer from Texas Label Printers will work just as well with potential new label designs. The advantage is that you can include this information the first time you print rather than having overprint information onto third party labels. Some examples of variable data information for the cannabis industry are: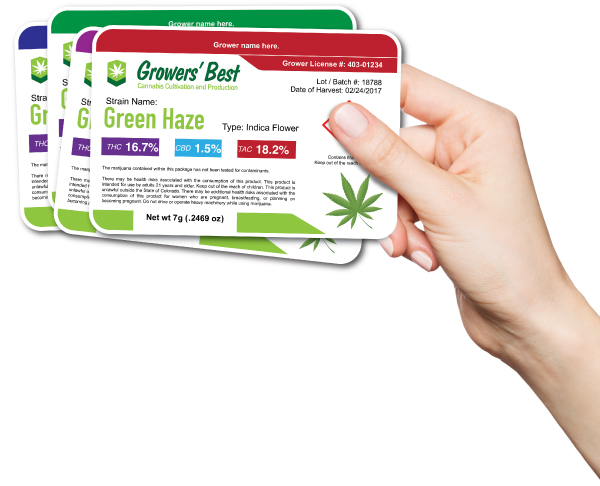 Batch/Lot Numbers
Barcodes
THC, CBD & Other Cannabinoid Content
Harvest Dates
Lab Testing Data
Strain/Type
Printed Samples & Popular Cannabis Label Printers
Would you like to compare and contrast what your cannabis label file(s) looks like when printed with any of the label printer models that we offer? Request printed label samples here. Listed below are the most popular label printers that our customers with cannabis-based businesses purchase: